An Amazing End-Times Novel
By Patience Prence
The Prophecy of the Popes, attributed to Saint Malachy, is a list of 112 short phrases in Latin. They purport to describe each of the Roman Catholic popes (along with a few anti-popes), beginning with Pope Celestine II (elected in 1143) and concluding with a later added pope described in the prophecy as Petrus Romanus "Peter the Roman", whose pontificate will end in the destruction of the city of Rome.
"During the final persecution of the Holy Roman Church, the seat will be occupied by Peter the Roman, who will feed his sheep in many tribulations; and when these things are finished, the seven-hilled city will be destroyed, and the formidable Judge will judge his people. The End."

The last eight popes as listed with the following titles:
(According to St. Malachy's prophecy)

| | |
| --- | --- |
| 105th Piux XI 1922-1939 - Fides Intrepida (fearless faith) | |
| | 106th Pius XII 1939-1958 - Pastor Angelicus (the 1st of the Angelic Shepherds). In 1945, Pope Pius XII stated, "The world is on the verge of a frightful abyss ... Men must prepare themselves for suffering such as mankind has never seen." |
| 107th John XXIII 1958-1963 - Pastor and mariner; shepherd and sailor | |
| | 108th Paul VI 1963-1978 - Flos Florum (Flower of flowers) |
| 109th John Paul I 1978 - De Medietate Lunae (Of the half moon) (born Albino Luciani, in Canale d'Ogardo, diocese of Belluno, (aka lovely moon) (John Paul I reigned for 34 days from half a moon to the next half... before he died suddenly and mysteriously.) | |

| | |
| --- | --- |
| | 110th Pope - John Paul II 1978-2005 De Labore Solis (he was born during a solar eclipse May 18, 1920 and died near a partial solar eclipse on April 8, 2005; i.e., the pope of the eclipse; the labor, or eclipse, of the Sun; the true pope) - one version of St. Malachy omits De medietate Lunae (from half of the Moon). Pope John Paul II's funeral is to be held "during" the solar eclipse on April 8th! |
| 111th Pope pope benedict XVI "De Gloria Olivae" From the Glory of the Olive | |
| | 112th Pope? The Last Pope - Petrus Romanus "During the last persecution of the Holy Roman Church, there will sit upon the throne, Peter the Roman, who will feed the sheep amid great tribulations, and when these are passed, the City of the Seven Hills (Rome) will be utterly destroyed, and the awful Judge will then judge the people" |
Will Petrus Romanus be the False Prophet of Revelation thirteen?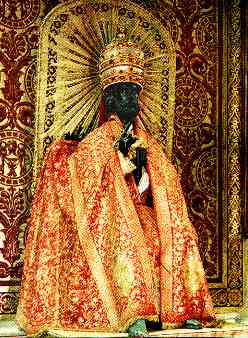 "Then I saw another beast coming up out of the earth, and he had two horns like a lamb and spoke like a dragon ..." Revelation 13:9

The lamb represents Jesus and the dragon represents Satan. So he'll look like Jesus and speak like Satan. But what are the two horns?

The hat the pope wears is called a two-horned mitre.







Is this the False Prophet, the second beast of Revelation 13?

They call him Master Jesus. He claims to be Jesus, but not the Christ. He claims he will take over the chair of St.Peter and prepare the church for the coming of the Christ, Maitreya. He says he has no Scars because he has ascended from the sixth ray.

Is this the False Prophet? You decide ... (Pray for protection before entering these sites);

google search: share international master jesus